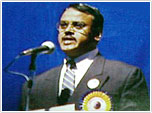 Parisutham Institute of Technology and Science fondly referred to as PITS is a growing institution of excellence. Spread over an area of more than fifty acres, this lush green campus has one of the finest infrastructures in terms of academic environment and facility.
India's Top Magazine THE WEEK (Issue Dated 21st June 2015) released the Rank List of Best Colleges in India. It is based on an educational survey by India's Top Educational Research Surveyor HANSA. At the All India level PITS was ranked 99th & In South Zone (South India) consisting of TN, ANDHRA, KARNATAKA, KERALA & Pondicherry, PITS has been Awarded the 72nd RANK, among Private Engineering Colleges. PITS was the Youngest Institution to be ranked & listed.
(Refer:
https://www.facebook.com/media/set/?set=a.931186103591767.1073741976.127699997273719&type=3
)
PITS is a virtual visual education centre designed to make absorption much easier for students to follow their lessons. Every class room is equipped with over-head & L.C.D. projectors and all lecture theatres and computer centres have LCD projection and E-Board facility. Labs are well designed and equipped. (
LAB FACILITIES: Know More
)
Eco-friendly Campus
PITS is a cleanliness enforced, eco-friendly campus. Cleanliness is a rule in PITS and is practiced almost perfectly. Students do not throw paper waste on the ground. They follow excellent cleanliness standards. PITS Campus is noted for its Eco-friendly surroundings and good maintenance. The 50-acre campus has more than 5000 trees. (
PITS Campus:  Know More
)
Finishing School
The purpose of the Finishing School is to train students to be industry ready and adapt to changes, teach them skills to face interviews and to groom students. This unique program given by the Finishing School is largely appreciated by students and parents. These programs embedded into the curriculum, teaches lifeline skills- manners, etiquette, spoken English and other skills like singing, debating, group discussion and aptitude programs. Grooming lessons are taught and enforced right from the day one. Yoga, aerobics, silambam and singing classes are compulsory. To induce creativity, sand sculpting, clay modeling and chart making sessions are also conducted. These activities are designed to promote logical thinking, team work and leadership. Type writing tutorial is compulsory. Video hour, Quiz hour, Role play, Panel debates, Group Discussion, Class seminars, Viva voce, Paper presentation are conducted from first semester onwards. These activities are designed to make campus life lively and to increase students' participation. To bring out creativity, program known as "Talent Time" is conducted to encourage students exhibit their talents. This "Talent Time" program is held once a semester. (
Finishing School:  Know More
)
Test & Tutorials
Special evening tuition classes and extensive re-testing are conducted regularly. The Daily Assessment Test (DAT) is a daily testing feature to induce the students to study the subjects taught during the previous week. Cyclic Assessment Tests (CAT) are also conducted twice a semester. Weak students are spotted out for compulsory coaching. Study camps are organized during study holidays to help students get their doubts cleared from teachers without hesitation. These informal tuition sessions, which are conducted with small group of students, have proven to be highly successful.
Administration
Its administration is highly decentralized giving way for efficiency and development. Academics and administration are clearly demarcated to even out load-bearing. As a result, all round development of curriculum is easily carried forth without strain or difficulty by each and every responsibility head.
Games
Boxing, Fencing, Swimming, Silambattam, Cricket, Football, Hockey, Volley ball, Lawn tennis, Roller-skating, Beach volley ball, Archery, Rifle shooting, Ball badminton, cricket, Kabadi, Hand Ball, Kho-kho, Campus jogging and Basket ball are out-door physical activity development schedules. PITS Students Centre is a large in-door facility for Billiards, Table tennis, Gyms, carom, chess, squash and badminton (shuttle). All play fields and indoor facilities are flood-lit. Women too participate in all these activities in large numbers. This huge Students Centre has been designed to encourage students' activities and relaxation. It also houses the food courts, Cafeteria, mini stores, television facility, browsing facility and students lounge as well. (
Sports & Games: Know More
)
Spoken English
Disciplined grooming along with compulsory spoken English has made this institution a unique. Students are actually compelled to speak in English with fines and counseling. Hence, our efforts on the "Spoken English" front has largely proved to be very productive. Classes are strictly taken in English. Finishing School and communication enhancement programs like singing classes, panel debates, group discussions, role plays, language lab sessions have further helped students to drastically improve their English communication skills.
Visuals
Hostels
There are two hostels - The Rainbow hostel (for gentlemen) and The Breeze hostel (for ladies). It has four-seater, two-seater & single-seater rooms. The sharing rooms have individual cubicles for privacy. Daily English newspapers are supplied to each and every room. College buses are available for day scholars. Campus lunch is optional for day scholars.
The success of this institution is largely due to the dedication, devotion and commitment of the faculty who take care of the students' needs.
PITS is conveniently situated on the Ring Road, just on the out skirts of Thanjavur town in Tamilnadu, India.